Proudly caring for your skin with the following products: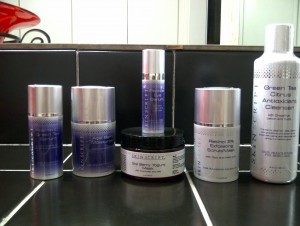 Skin Script RX Skin Care is natural, yet clinical skin care designed for anti-aging, hyperpigmentation, melasma, sun damage, teen and adult acne, rosacea. Antioxidants, exfoliants, and natural brighteners are the base of this skin care line to achieve remarkable results.
Skin Script is dedicated to beautiful, healthy skin using fresh thinking to deliver the latest in vitalized, youthful looking skin. Skin Script provides a clinical, professional skin care line containing retinols, glycolics, lactics, salicylics and natural lighteners / brighteners allowing you to customize a treatment regimen for your clients' skin conditions. For use in your facials, microdermabrasions and chemical peels, these specialty products are designed to complement Skin Script's clinical home products. The natural fruit enzymes and peels are formulated with higher levels of the natural lighteners, kojic and arbutin.
Skin Script's professional products successfully treat melasma and hyperpigmentation on Fitzpatricks 1-6 (specializing in darker skin tones) in addition to offering an 8-week series protocol to treat these difficult skin conditions.
Ageless Perfection is dedicated to delivering the best services and products to the area. Come in for your skin analysis today and start your home care regimen with Skin Script.
*******************
Speciality Skin Care for Cancer Patients
Created in 2003 as the first complete skincare line designed specifically for the unique needs of people undergoing cancer treatment. Lindi Skin is a safe, gentle, clinically-proven line of skincare perfect for anyone with compromised skin. This line is not limited to cancer patients but also great for individuals with severely sensitive skin.
Excellent pre and post chemo and radiation therapy. Retail product available.
*********************
We want your waxing experience to be as pleasant as possible. The amazing, results driven product we use (SatinSmooth Soft & Hard Wax, Berins Lavender Lotion Santizer, Berins Jasmine Oil, and Berins Post Wax Oil) allow us to delivery excellent waxing hair removal results. Check out the details on our designated page "WAX That" Wednesday!