Monthly Featured Treatment
Monthly Featured Treatments
Resurface. Oxygenate. Hydrate.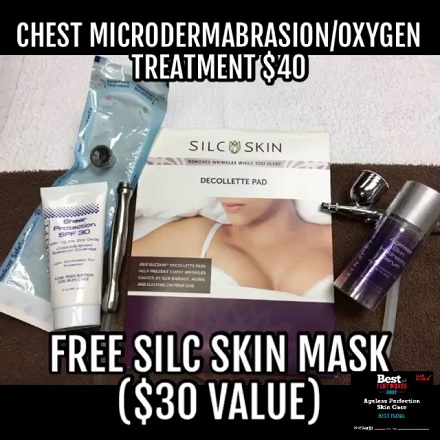 Chest Microdermabrasion + Oxygen Treatment - $40
Concerned about pre-mature aging or wish to deter chest wrinkles and hyperpigmentation? This is an awesome treatment for you. Experience a foaming double cleanse with second being an exfoliating cleansing to start the removal of dead skin cells. The AHA/BHA prep product further sets the stage for Microdermabrasion, oxygen serum and oxygen cream to minimize and remove fine lines and wrinkles. It creates a healthy glow to the skin brightening and smoothing to effectively diminish superficial sun damage and discoloration providing a refreshed and glowing appearance. Includes a FREE SilcSkin Decollette Mask Pad ($30 value) to assist in extending your treatment.

Advance Aesthetics Treatment + Hibiscus Specialty Peptide Mask - $85
THIS IS NOT DERMABRASION. Our Advance Aesthetics Treatment is a simple and safe procedure for exfoliating the epidermis and ridding the skin of fine vellus hair. This quick procedure with few to no adverse effects, using a scalpel and a delicate touch, simply abrades the surface of the skin using light feathering strokes. It improves dull skin, minimize surface signs of aging such as fine lines, wrinkles and hyperpigmentation, acne scarring and skin texture. All skin types can enjoy this advance treatment consisting of a double cleansing, gel enzyme exfoliation, followed by hydration serums, peel-off anti-aging mask. Includes a FREE Hydrating Sheet Mask ($20 value) to assist in extending your treatment.
Note: Pricing valid through May 12, 2018; purchase two (2) facials and schedule one (1) for June.
- Cannot be combined with any other offer
- Appointments required and subject to availability
- 24-hour cancelation policy applies and carries a $25 late fee
- No show policy applies and carries a $50 fee
- No cash value
- Special pricing cannot be combined with other coupons, discounts or promotions