Monthly Featured Treatment
December - January Featured Face Treatment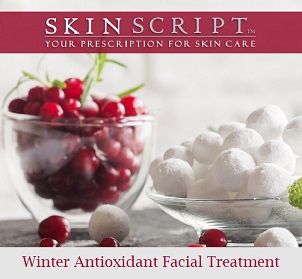 $65 (Includes Galvanic Current & LED Treatment)
This wintery facial contains an arctic cranberry enzyme with 2% mandelic, 2% lactic, 2% arbutin and 2% kojic which is an exceptional combination for an extreme lightening and anti-aging face treatment. Arctic cranberry seed oil is rich in tocotrienols which the skin needs for protection against free radicals. The arctic cranberry seed oil provides the essential fatty acids Omegas 3, 6, & 9 which are nourishing and anti-inflammatory.
Enjoy intense hydration serum induction followed by the cooling sensation of peppermint in our Wintermint Hydrating Mask. This hydrating mask is packed with antioxidants and hydration. Gycerin, shea butter, and peppermint hydrate, firm and improve skin's tone. Cloud Berry is a potent antioxidant and scavenger of free radicals, and possesses anti-viral/fungal/bacterial properties. Peppermint provides a cooling and aromatically pleasing effect to the facial.
Enjoy a refreshing wintery glass of Cranberry Mint Water after your treatment.
INGREDIENT SPOTLIGHT | Cranberry Fruit Extract
The cranberry fruit is high in antioxidants, partly from substances called proanthocyanidins. Antioxidants scavenge damaging particles in the body known as free radicals. Environmental toxins (including ultraviolet light, radiation, cigarette smoking, and air pollution) can increase the number of free radicals in the body, which are believed to contribute to the ageing process as well as the development of a number of health problems such as heart disease, cancer, and infections. Antioxidants can neutralize free radicals and may reduce or even help prevent some of the damage they cause. Cranberries are an excellent source of vitamin C as well, another important antioxidant.
Treatment suitable for all skin types, and target anti-aging needs. Goji Berry Hydrating Mask will be substituted for acneic skin condition. To extend the awesome results, a precise home regimen will be provided.
Note: Treatment promotional pricing available for purchase through January 31, 2017. LIKE our Facebook page and/or follow us on Instagram for the latest news.
- Cannot be combined with any other offer
- Appointments required and subject to availability
- 24-hour cancelation policy applies and carries a $25 late fee
- No show policy applies and carries a $50 fee
- No cash value
- Special pricing cannot be combined with other coupons, discounts or promotions